New signal ahead at Broadway and Plaza Drive
County Commissioners approve contract to replace aging signal in Highlands Ranch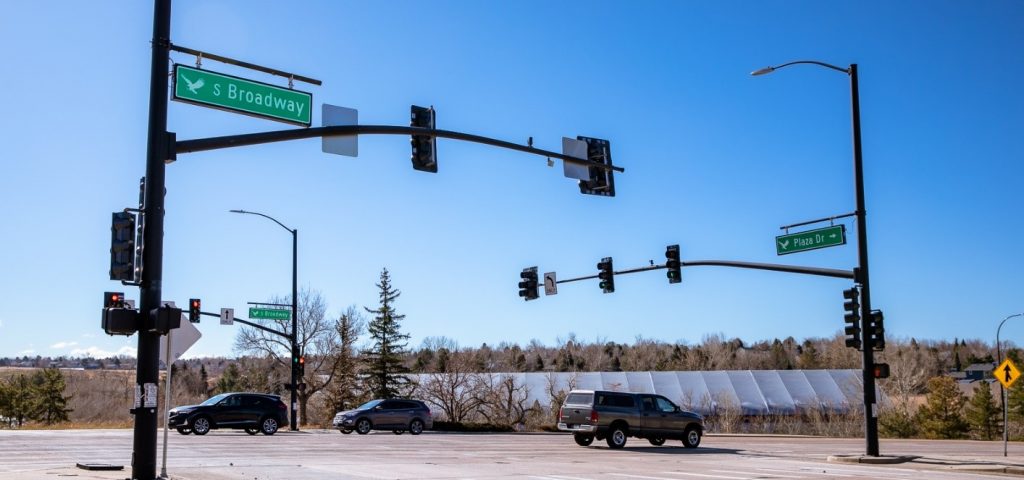 Maybe you're on your way to the movies in Highlands Ranch, or to exercise at the Northridge Rec Center. If you are, you likely pass through the intersection of Broadway Boulevard and Plaza Drive. This spring, it's getting an upgrade.
The Board of County Commissioners approved a construction contract during a regular business meeting this week. Now, work can begin this spring on a new traffic signal at this vital intersection – which sees more than 40,000 vehicles every day.
As part of this project to replace one of the County's oldest traffic signals, the damaged concrete at the intersection will also be replaced. Replacing the signal and concrete at the same time will minimize impacts to the traveling public. Visit the project web page for more information, including a map.
Construction is expected to begin in May and be completed by fall. Traffic movements will be maintained, but some delays are expected.
For updates on this and other road construction projects in Douglas County, sign up for Traffic Alert emails. Visit the County's email subscription page and select "road work/cone zone." Or, visit the Traffic Alerts page for information on construction and maintenance projects.
A safe and accessible multimodal transportation network is one of the Board of County Commissioner's six core priorities. Read more about the County's transportation initiatives online.