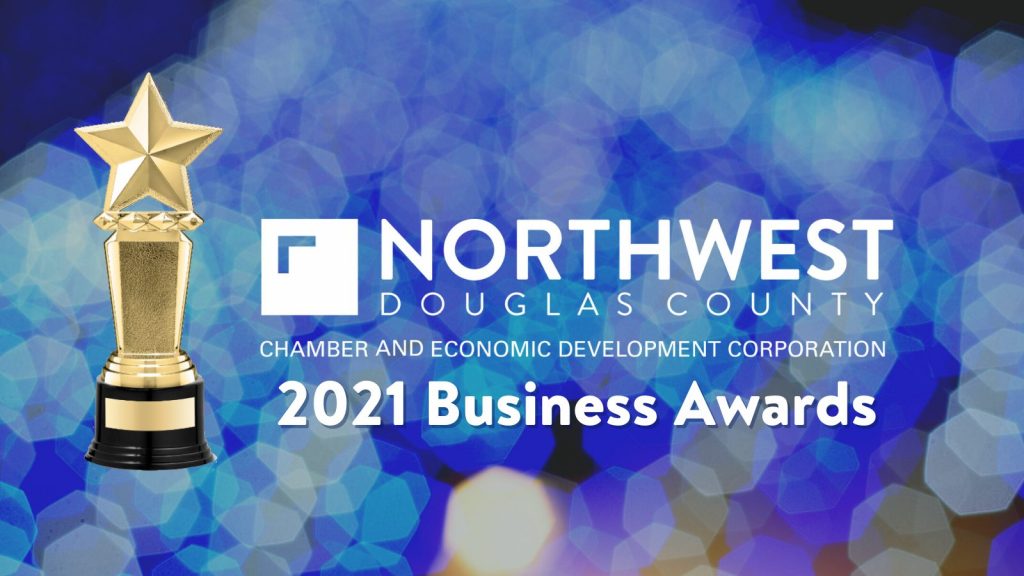 2021 Nominations due by Wednesday January 12th.
Awards will be announced at the Annual Breakfast on Friday March 4th.
Business Awards (nominations accepted)
You may nominate your own business or another business.  Please note that once a business is nominated, they will be required to complete a follow-up form that allows the business to tell its own story and successes highlighting the criteria used in their nomination.
Eligible business and organizations must be a member in good standing with the Northwest Douglas County Chamber & EDC.
Small Office/Home Office Business of the Year (1-3 Employees)
Small Business of the Year (4-10 Employees)
Medium-Sized Business of the Year (11-49 Employees)
Large Business of the Year (50 or More Employees)
Non-Profit of the Year
Businesses must have demonstrated on or more of the following characteristics
Job growth and/or has demonstrated resilience
Innovative products or services
Provides exemplary customer service
Encourages and provides professional development of staff
Reinvests in the community (volunteering, donations, etc.)
Non-Profit of the Year nominees must have demonstrated the following:
Outstanding contributions to the community or provide quantitative results of an initiative
Has shown impact in the community from their work (supporting data and needs of the organization's work may be requested in the follow-up form)
Has shown organizational excellence and responsibility to stake
Mission statement of the non-profit organization must be provided
Champion Award (in Honor of Carolyn Burtard)
Nominated and selected by Chamber & MAC Volunteer Leadership
We lost Carolyn Burtard in 2020 after her battle with cancer. Carolyn was a treasured member and volunteer, and we have created an award in her honor. She was a member of our organization for 16 years. For almost all those 16 years she volunteered for our organization, recruited new members, and was a part of every group that helps shape the vision and mission of our Chamber & EDC. She served as an Ambassador, sat on our Board of Directors, Women's Business Alliance Committee, and numerous sub-committees for events and programs. She also gave her time and financial support to numerous other non-profits in the community serving on boards and committees and supporting fundraising events.
This award is presented to a Chamber & EDC member who has proactively demonstrated extraordinary enthusiasm for our organization through volunteerism, participation in Chamber & EDC activities and/or committees. This nominee shall also have acted as a notably positive member for our Chamber & EDC through interactions with the public and other members. This individual is a champion for the community, involved in serving, volunteering, and inspires community involvement in others.